Can you imagine a nighttime creamy snack that helps your muscle recovery and fat loss goals, too good to be true right?
Wrong, I can tell you we have cracked it with the latest addition to our Muscle recovery product range. The inspired Custard casein protein is a simple to make, delicious evening snack that reduces sweet cravings and is the same texture to having a creamy custard dessert.
Now I enjoy a goal post workout shake but I was after a treat that gave me the sensation of eating and would keep me away from the lollies draw (we all have one). So, when I added water to this powder, I was delighted to see it thicken and firm up.  I have only tried it cold but the option of having it either hot or cold is a win in my eyes. The flavor Boysenberry is the most popular and I can see why, plus the combination of Casein and MCT means you'll feel satiated and supports those gains.
Why have Casein Protein?
Casein is a slow-digesting dairy protein that people often take as a supplement. It releases amino acids slowly, so people often take it before bed to help with recovery and reduce muscle breakdown while they sleep.
Several studies have shown it helps boost muscle growth, along with a ton of other benefits.
Casein is well known as a "time-release" protein because of its slow absorption rate in the gut.
This means that it feeds your cells with amino acids at a low level over a long period of time. It can help your cells synthesize protein, even during times when your body might normally be breaking down its own muscles to feed itself, such as when you haven't eaten for some time.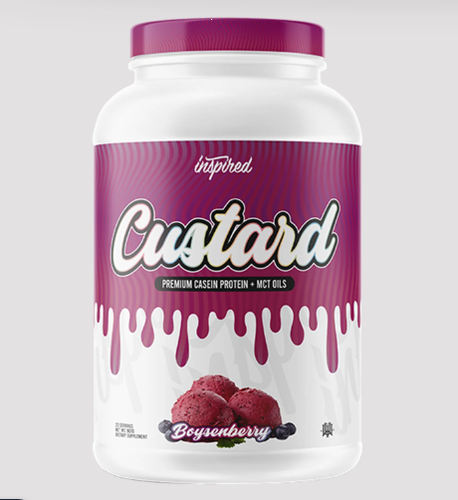 Overall, this is a win from me and a new addition to my supplements plus the taste is a fruity refreshing break away from the chocolate and vanilla staples I have become so accustomed too.
I would recommend getting yourself a tub or 2, to kill off the evening cravings and prevent muscle loss, and its helps that we have a special offer on Buy 1 get 1 free for just $69.95, with a total of 46 servings that's less than $1.52 per serving. Don't let Xmas and the temptation to indulge take you away from your goals of lean gains and fat loss. Pop in store or order online to get yours.