Xtend Pro Whey Isolate by Scivation (Exp 11/21)
Key Features & Benefits:
Zero sugar & fat
No artificial flavours - Naturally flavoured formula
Low calorie - Under 150 calories and a few grams of carbs per serve
Supports muscle recovery & growth - Combining the benefits of 7g of BCAAs with 25g of premium quality ultra-pure Whey Protein Isolate, Xtend Pro Whey Isolate is designed specifically to support you in maximising muscle growth and recovery. 
Promotes fast absorption - The Whey Protein present in Xtend's cutting-edge formula is extremely clean and highly bioavailable, allowing your body to absorb and utilise the nutrients at a much faster and efficient rate than most other protein sources.
To ramp up your performance, results and recovery, there's no other quite like Xtend's brand new BCAA-enhanced protein powder, Xtend Pro Whey Isolate!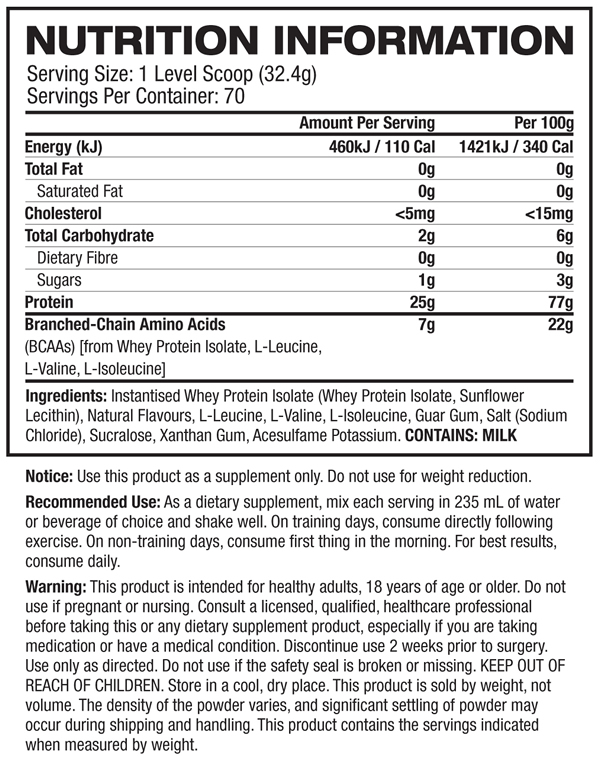 Delivery Coast
If your order totals over $100, then you have Free Shipping.
Delivery of orders under $100 is a flat rate of $9.95 anywhere in Australia.
Estimated Delivery Time
Most customers receive their supplements in 1-2 business days! As long as:You order before 3pm (AEST) Mon-Fri
You use a payment method with instant clearance, like Paypal Instant Payment or Credit Card or After Pay or Apple Pay or Google Pay
Your parcel is less than 5kg in cubic weight. (Some bulky goods will not apply)
You are not in a remote location Please note parcels going via Australia Post (PoBox, Defence Adresses) may take longer than 1-3 business days.
Parcels going to NT, and bulky parcels going to WA may take 5+ business days to arrive.
If your order weighs more than 5kg or is bulky: Heavy or bulky orders are sent via road freight which means that the estimated delivery time will be longer than orders sent via air freight.
If you have used an alternate payment method: Direct bank deposit or Echeque may take some time to clear. To get your supplements in the shortest time possible, use credit card.
Supps247 promise to offer best to their customers, we can beat any price online in Australia, as long as that product is not on special deal or clearance. Price must be included the shipping cost.
---